BFG
Byske Flyfishing Guides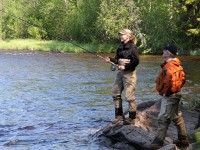 Byske Flyfishing Guides (BFG) is a company by Roger Viklund and Stig Lundgren. It has no association with Byske Skomakeri. BFG was founded on the philosophy of protecting the wild salmon of the Baltic Sea. We have been fishing the Byske river (Byskeälven) ever since. Today we guide people, groups of people, companies, and media along the river. Most assignments take place during the peak fishing season between end of May and mid-July. We offer guiding along either chosen parts of the river or the entire 100 km of river from Byske to the county border. We have had many foreign customers from England, Germany, The Netherlands, Schweiz, Denmark, the Baltics, and Russia.
Assignments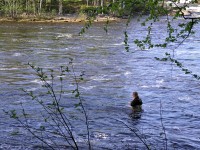 The typical assignment is a so called site tour. You will learn how to find a number of good fishing stretches along the river. We will also tell you how to fish these particular spots to maximize your chanses of hooking a salmon or trout. During a site tour you may aquire tips and tricks and you will be prepared for fishing on your own. One of us usually meet up with you at your place or in central Byske. We then go on together in your vehicle. The typical site tour takes about three hours. We also take other missions such as guiding you during actual fly fishing, with or without casting instructions. As a rule we do not lend fishing equipment however exceptions can sometimes be made if agreed on beforehand.
Equipment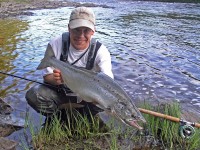 We recommend rod lengths between 14 and 15 feet and weight classes 9/10 to 10/11. We do not sell fishing gear however we may assist you with advice choosing equipment and where to get it. We inform you about the fishing rules and we do sell fishing license. We know Byske by heart and you may have lots of information not only about the fishing but also where you can stay, shop, eat, and refuel your vehicle. We recommend you watch the movie Laxsommar vid Byskeälven (Salmon summer on the Byske River). In the movie you might catch a glimpse of a custom-made fly fishing vest made by Roger. More information about fly fishing in Byskeälven can be found at Byskeälvens fiskevårdsområde.
Accomodation
We can recommend  strategically located places near the Byske river. More information is available here.
Contact
For bookings and more information please e-mail or call us.
>@byskeskomakeri.se (replace the character > with BFG)

Roger Viklund
+46 70 595 25 55

Stig Lundgren
+46 70 693 84 41
Welcome to Byskeälven!